Order screen
The Order page is the default page when loading the mobile app. It is composed of three sections:
Menu and order actions

Menu button
List of actions for orders

List of orders
Status

1 - Action buttons
Multiple selection: couriers can select more than one order at once
Map view: displays the orders on a map
Manual reorganization: couriers can manually reorganize the orders' delivery sequence, please refer to Schedule
Route optimization: reorganizes the courier's route via an algorithm, please refer to Schedule
Organization grouping: couriers can group orders by organization, please refer to Grouping
Sort: couriers can sort the orders using a variety of criteria
Filters: couriers can filter the orders using a variety of criteria
2 - List of orders
Displays the list of orders for the selected status (one of three tabs at the bottom of the screen). This list can be grouped by organization.
Filters, sort and organization grouping will impact the displayed orders and are independent by status. For example, sorting orders when looking at the Ready status will not be reflected in the other statuses (Returning or On The Way).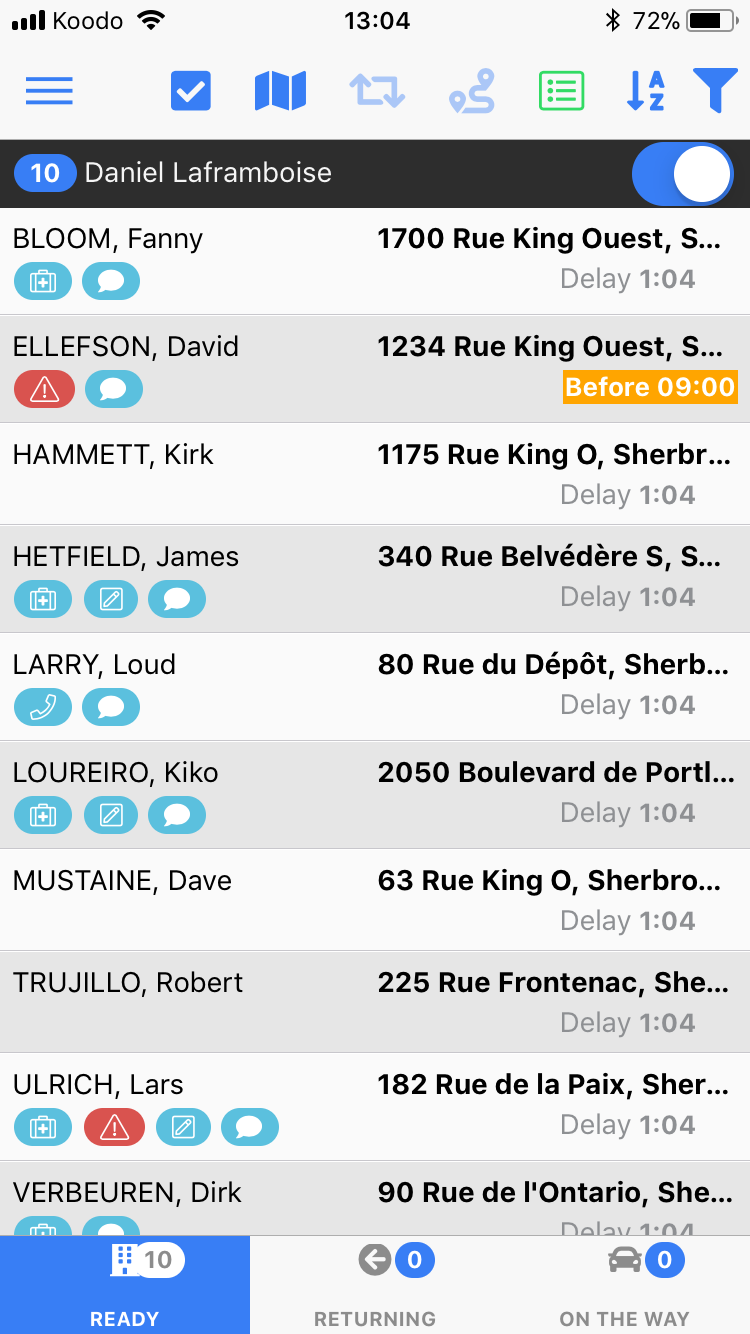 3 - Order details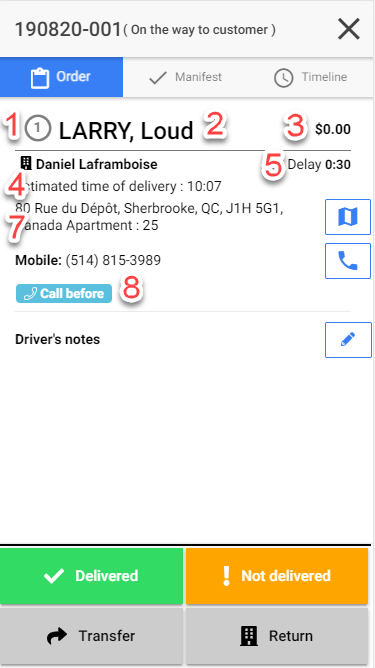 Delivery order (once a courier has taken ownership), please refer to Schedule.
Sequence number
Customer name
Amount to collect
Average delivery time for recurring orders. (Route optimization must be activated and used).
Time elapsed since the courier took ownership
Preferred time of delivery (will appear only if a preferred time of delivery has been specified)
Delivery address
Order and/or customer tags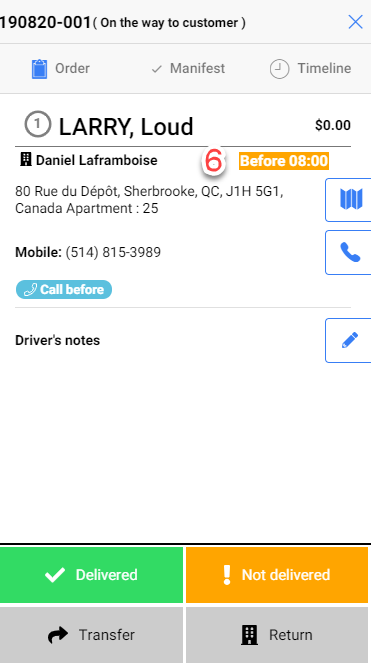 4 - Status
The app has three different lists of orders a.k.a. statuses:
Ready: Orders ready to be taken by a courier
Returning: Orders on the way back to the merchant (pickups or failed deliveries)
On the way: Courier on the way to the customer for either a delivery or pick up.
Application Menu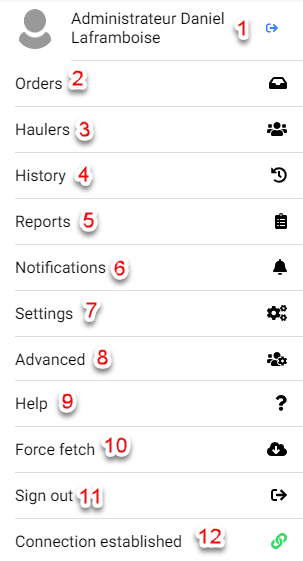 Logged account along with sign out option
Courier services: for Administrators only
History: list of completed orders for the current day
Reports : travel and cash report
Notifications: notification history
Settings: various settings for the mobile app
Diagnostic: status of the mobile app
Help: help page
Force retrieval: forces the app to retrieve current orders from the servers, please refer to App Synchronisation.
Sign out
Real time server connection status